Joining us in Year 7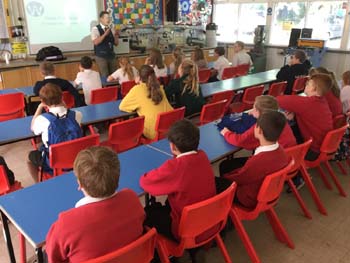 "The move to a school is a very exciting time but it can also be a little daunting. Everyone at Alderman White can remember what it was like to be new, and there are lots of people ready to help if you need it. We are all living through a very unusual time at the minute which may make it feel even harder. We will all work together to help you to make the transition to Alderman White – and we will still run our induction activities for you, even if they are in a different format or at a different time to usual, so you will be able to get to know the school, your teachers and your tutor group before you join us."
Mrs Mellors
Key Dates
Whether or not schools will re-open in time for our usual induction programme in July, we fully commit to inducting our new Year 7's thoroughly and will arrange an Induction programme when schools finally re-open. We will also hold our Induction Evening at this point too if necessary, so do be assured that you will have the opportunity to meet key staff and gain all the relevant information you require.
The important dates for your diary currently are:
Year 6 Virtual Induction Evenings by Tutor Group
Virtual induction evenings using Zoom. See the attachments at the bottom of the page to download our presentations.
Tuesday 7th July 2020
6:30pm - 7:15pm: 7FRS
7:30pm - 8:15pm: 7WED
Wednesday 8th July 2020
6:30pm - 7:15pm: 7WTK
7:30pm - 8:15pm: 7HAL
Thursday 9th July 2020
6:30pm - 7:15pm: 7KEM
7:30pm - 8:15pm: 7MCL
Invites will be sent out closer to these events via email.
Year 6 Virtual Induction Days by Tutor Group
The day will consist of an assembly, live tutor session and three 30 minute live lessons in tutor groups at various times throughout the day. More information about these days will be shared at the Induction evenings.
From Monday 20th July 2020, Alderman White School will also share a number of online lessons for Year 6 students that can be completed in conjunction with Year 6 leaving activities at your child's primary school.
Monday 13th July: 7FRS / 7MCL
Tuesday 14th July: 7WTK / 7HAL
Wednesday 15th July: 7KEM / 7WED
Google Classroom
Year 7 2020-21 classroom
Class code: h3ppa3g
All work should be accessible from this classroom. Please remember all work is optional!
Have a great Summer -see you in September!
Introductions and Virtual Tour
Transition Newsletter, Pack and Welcome Guide
Please see the attachments below to download our Transition Newsletter, Transition Pack, and the Welcome Guide for Year 6 students.