Last updated: 18th March.
Please see our Stay At Home School information during the period of closure.
---
COVID-19 School Policy Statement

Our policy with regard to COVID-19 is based on current NHS and Public Health England guidance and will be reviewed in line with any changes to the guidance or circumstances.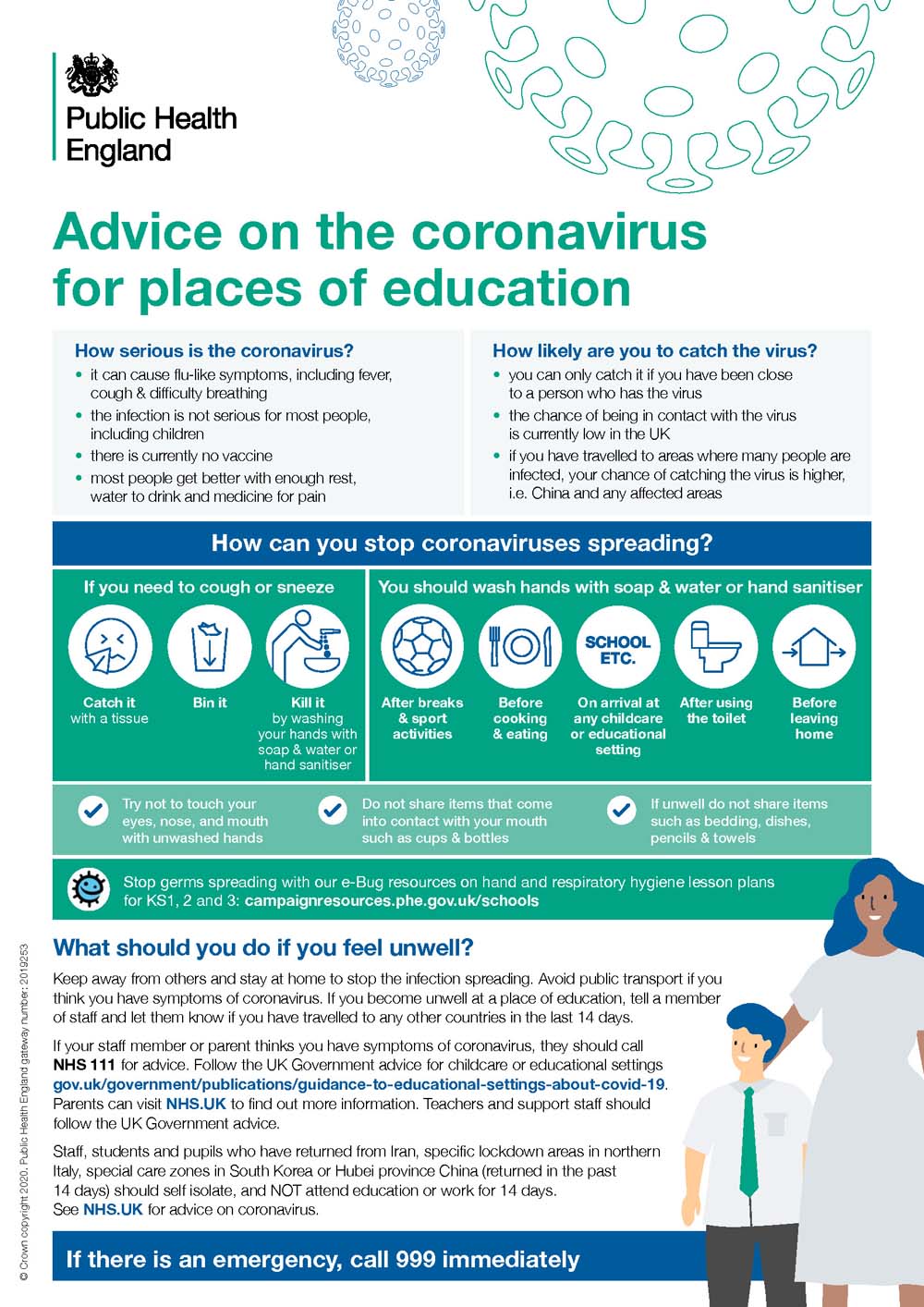 It is our school policy that students, staff, parents and members of the community should not come to the school site if they have cold or flu symptoms, or have been in close contact with someone with a diagnosis or symptoms of COVID-19 within the last 14 days. It is essential that parents notify school as soon as possible if their child is absent from school and the reason for the absence.
The current Public Health England advice is that you should stay at home for 7 days if you have either:
a high temperature
a new continuous cough
Do not go to a GP surgery, pharmacy or hospital.
You should use the NHS 111 online coronavirus service if you do not get better after 7 days or your condition gets worse. Only call 111 if you cannot get help online.
NHS COVID-19 Coronavirus Overview
COVID-19: Stay at home guidance
While the symptoms of COVID-19 are not serious in the vast majority of cases, especially for younger people, it is important that we put in place commonsense measures that will slow the spread of COVID-19 in order to protect vulnerable members of our community and to reduce the pressure on our health services.
The health and wellbeing of our students and wider school community are of paramount importance, but it is also important that we avoid any unnecessary disruption to learning and normal school activities. We will provide regular updates to staff, students, parents, Governors and community users. We will share information and resources with our partner schools and organisations.
We are committed to ensuring that our school community has access to factual, accurate information about COVID-19. We ask that staff, parents, governors and community users familiarise themselves with the Public Health England and NHS guidance in relation to COVID-19, and make themselves aware of any changes to this guidance.
COVID-19 Coronavirus: UK Government response
We will promote good personal hygiene within our school community to prevent the spread of viruses.
Teachers and tutors will regularly discuss the importance of handwashing and tissue use with students and we ask parents to reinforce these messages at home.
We will ensure that soap, hot water and hand driers are available, as well as hand sanitiser in key areas.
We will ensure that the school is cleaned in line with Public Health England guidance.
We will promote our school value of Nurture and ensure that everyone is treated with respect in line with our Equality policy.
We recognise that COVID-19 may cause concern or anxiety to members of our school community. We will provide HR and wellbeing support to staff, pastoral and emotional support to students, and advice and signposting to parents, visitors and community users.
We will ensure that any visitors to our site are aware of our policy. We will complete a COVID-19 Risk Assessment on any activities run by external providers either on or off-site to ensure that Public Health England guidance for educational settings is being followed. Where we decide to cancel a visit or activity for health and safety reasons we will try to give parents and students as much notice as possible.
Any confirmed or possible cases of COVID-19 will be dealt with following the Public Health England guidance for educational settings.
We will plan for a possible period of school closure so that we can provide high quality learning resources and experiences for students remotely if necessary.

We will follow OFQUAL guidance with regard to public examinations. We have made Year 11 students and their parents aware that the OFQUAL contingency day is Friday 24th June 2020 and they should ensure that they are available to sit exams up until and including this day.
We will monitor changes to guidance and circumstances and review and update our policy and procedures accordingly.
Please see the attachments below for our Staff and Visitor Statement, and to view the messages recently sent to parents and carers regarding COVID-19.