We have to build a new model and ways of operating very quickly. Many of our previous structures and requirements are no longer in place.
The Chinese word for "crisis" (危機) is composed of two Chinese characters signifying "danger" and "opportunity" respectively.
Values
As always, everything that we do is underpinned by our core INSPIRE values.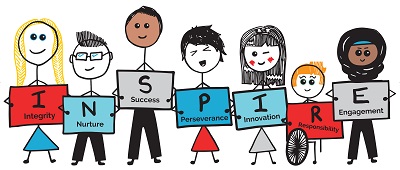 Development Priorities
Our development priorities for our Stay at Home School Model are:
1) Setting up effective communication systems for staff, students and parents
Parents and students are asked to only make direct contact with staff between 8.30am and 4pm Monday to Friday.
A daily bulletin will be shared with the school community Monday – Friday which will indicate staff who are not available to be contacted on that day.
Parent may contact individual staff directly by email, or the school office on This email address is being protected from spambots. You need JavaScript enabled to view it. or 0115 9170424.
Students are very good at not being overly reliant on teachers in a physical classroom – now they need to do the same in our virtual school. They know the drill – "Brain, book, buddy, boss". Students may message teachers between 8.30am and 4pm Monday to Friday but should only do this when they have exhausted every other way of solving the issue.
We aim to set up a forum for students and parents to provide feedback, ask questions and help to shape our provision.
Staff will be working to develop remote forms of communication that can be used to work effectively in teams and communicate with each other to ensure effective and safe working and mutual support.
2) To provide high quality pastoral support
We will continue to provide safeguarding support to students, parents and families and to work in partnership with other agencies where possible.
Any students, staff or parents who have an urgent safeguarding concern should email This email address is being protected from spambots. You need JavaScript enabled to view it.. Emails will be picked up as soon as possible.
For more information, please see the link below.


COVID-19 school closure arrangements for Safeguarding and Child Protection
The file linked above is an annex to our usual child protection and safeguarding policy, specific to the current closure.
Our pastoral team will be contactable between 8.30am and 4pm Monday to Friday.
Year 7: This email address is being protected from spambots. You need JavaScript enabled to view it.; This email address is being protected from spambots. You need JavaScript enabled to view it.;
Year 8: This email address is being protected from spambots. You need JavaScript enabled to view it.; This email address is being protected from spambots. You need JavaScript enabled to view it.;
Year 9: This email address is being protected from spambots. You need JavaScript enabled to view it.; This email address is being protected from spambots. You need JavaScript enabled to view it.;
Year 10: This email address is being protected from spambots. You need JavaScript enabled to view it.; This email address is being protected from spambots. You need JavaScript enabled to view it.
Year 11: This email address is being protected from spambots. You need JavaScript enabled to view it.; This email address is being protected from spambots. You need JavaScript enabled to view it.
We will aim to maintain weekly contact and activities from the year team to replace our usual assembly and tutor programme.
Supervision on site for identified students:
The government advice is that everyone who can safely stay at home should do so. Supervision will be provided on site in line with the government guidance – at present this is for vulnerable children who have a social worker or an EHCP, and for children who have a parent who is a critical worker, and cannot safely remain at home.
www.gov.uk/government/publications/coronavirus-covid-19-maintaining-educational-provision/guidance-for-schools-colleges-and-local-authorities-on-maintaining-educational-provision
The provision on the school site is for supervision only. The same educational provision will be made available for ALL students electronically (or via work packs if necessary)
If your child meets this criteria, and you need to access this, please phone the school office on 0115 917 0424 (during working hours) or email This email address is being protected from spambots. You need JavaScript enabled to view it. to book any provision required. Give as much notice as possible, but we will always try to accommodate requests however short the notice. We can offer supervision Monday – Friday 8.50am – 3.20pm, but only where a parent has made a request by phone or email.
Families in receipt of free school meals or experiencing financial hardship:
We are delighted to be working with Hope Food Bank who will deliver a weekly food parcel to families who would usually receive free school meals. Please contact This email address is being protected from spambots. You need JavaScript enabled to view it. if your child normally receives free school meals. Include your child's name, free school meal request and a contact number and a member of staff will call you to set this up. We can also offer sanitary products for girls in Year 7-11 provided through the period poverty scheme, and a pack of educational materials such as exercise books and paper that we have in school.
We understand that this is a time of great financial uncertainty for families. If you do not currently receive free school meals but do not have enough money or food to feed your family please email This email address is being protected from spambots. You need JavaScript enabled to view it. leaving your child's name and your contact number. Someone will contact you to discuss emergency support.
Support Services
There are some excellent support services with regards to well-being and mental health for young people:
3) To provide high quality teaching and learning, personal development and wellbeing and enrichment opportunities for all
This is a time of national and global crisis, and our delivery model for learning has changed dramatically. Our curriculum needs to adapt to reflect this.
We are NOT asking parents to "home school" their children. Most adults have a huge amount to deal with at present, both on a practical and emotional level. However, most parents are now much more actively involved in organising and managing their child's day, there are no activities and few places to go, and a lot of potential family time! For many essential workers, the opposite may be true, especially where parents are working for the NHS or other emergency services. We are going to create opportunities for parents and students to provide feedback and contribute ideas, and groups of parents may also want to discuss and share ideas.
We have no idea for how long we will be operating this model; we intend to develop something that will work effectively in the longer term if required and can possibly be reactivated in the future if required. As we all adjust to a rapidly changing life, Monday 23rd March – Friday 4th April is our Stay at Home School transition phase. Many school staff are also now doing this as parents, and some parents are doing it as teachers, so are roles are blurring and we can all learn together!
It is of course the case that all students need to be preparing for a return to the usual system in the future. The work set by teachers for Year 10 students in particular will ensure that they do not fall behind with their GCSE work. However, it is better to allow a gradual transition to this new way of working during our transition phase. The following article gives reassuring and sensible guidance:
www.theguardian.com/lifeandstyle/2020/mar/22/family-isolation-guide-for-parents-teenagers-coronavirus-lockdown
The lines between the formal and informal curriculum, personal development and enrichment are going to become blurred. Tasks set by teachers will form part of this, but this way of learning is going to involve more flexibility and choice, and possibly creativity.
Students will be asked to complete a learning diary every day describing ANY learning that they have done doing the day and reflecting on what they have learnt. This will include work set by teachers on Go for Schools, enrichment activities completed at home, anything linked to their personal development, or activities that they are doing at home which help them to develop and demonstrate their skills e.g. cooking; helping look after younger siblings; keeping in touch with grandparents. They may want to record evidence of what they have dome – this may include photos or video. Students may record if they have been ill or unable to work on their learning diary.
Students will be able to use their learning diary to evidence what they have achieved, and we will use the diaries as evidence to evaluate how successful this education model has been – maybe there are things we can learn from this and build into our usual practice. We will ask students to submit their weekly learning diary to their tutor electronically by the end of the weekend.
Curriculum Priorities
In the light of the sudden and significant change to all of our lives, uncertainties and worries that we face, it is more important that ever that our curriculum provision is based on these principles – the Every Child Matters goals (2006) and Maslow's hierarchy of needs.
There is so much that we all need to learn and fast. This is a menu of ideas, many of which you will cover naturally anyway. Rather than trying to recreate the school curriculum at home in challenging circumstances, this may be a good opportunity to rethink what our learning priorities are. We are going to develop optional resources to support the following areas, as well as providing subject specific activities.
The guide below shows all of the educational opportunities linked to these principles:

A. Being healthy.
This is the absolute priority. Suddenly there is loads to teach ourselves and each other that we probably haven't really done justice to before.
Make sure that your children understand the Public Health England expectations with regard to social distancing and talk to them about why it is important that we do this. We will produce summaries and share any relevant resources.
Our experience this week is that young people are struggling to maintain social distancing around their peers. We would advise against unsupervised contact with other young people as the 2 metre distance rule may be overlooked quite quickly. If you are building in face to face contact please make sure it is outside and observe the 2 metre rule. Walks, runs and cycle rides are not yet advised against but we advise they are supervised in quiet places near to home
We strongly recommend using this webpage to discuss the things we all need to do to protect ourselves and each other and answer any questions: www.who.int/emergencies/diseases/novel-coronavirus-2019/advice-for-public
Make sure your child knows the social distancing advice for older or vulnerable people, especially if they are going to have any contact or provide care.
This is a great opportunity to really focus on self-care and staying as well as possible.
We suggest a regular agreed bedtime similar to a school night Sunday – Thursday, but only using the alarm if you have to or agreeing a later time to get up. There is lots of evidence that teenagers need far more sleep than we all realise, and that maybe they would work better if they were allowed to wake up later. This may be a good opportunity to experiment!
Eat regular meals – as a family where possible, and helping with food preparation and clearly up. A great chance to really focus on food hygiene. Maybe there are some online materials they can find?
Develop an exercise regime that involves social distancing. There are loads of great resources being produced and shared. Use the ones from our PE department, or other live classes activities.
Take really good care with personal hygiene. Looking at helpful guides to effective handwashing. (Maybe making your own handwashing song video??)
Think about any additional precautions and cleaning required in the house and how they might contribute.
If your child is interested, they could find reliable and helpful resources that explain how viruses spread, the research into COVID-19, and the progress being made to identify treatments and a cure. They are living through a time of urgent scientific advance!
Monitoring their own health and using rest, fluids and paracetamol to address any cold or flu symptoms quickly. This could be an opening to learn more about first aid and addressing minor conditions at home. We will make resources available for this.
Make sure your child is taking care of and managing their own stress, anxiety and worry which is entirely natural after such a sudden change. Resources and guidance will be provided. They will need plenty of time to chat the friends and family, and do activities at home that they enjoy and take their mind off things – there have to be benefits to staying at home!
Consider how to discuss what is happening with your child. We will source and provide resources to support with this but will not communicate directly with your child about current affairs. Consider how to answer any questions.
B. Staying Safe
This is a very important time to discuss and reinforce the importance of online safety. There are a minority of people looking to exploit the situation through scams or offering unwanted services (perhaps with an initial free trial). People will be aware that school children will have much more time unsupervised and online and could try to exploit this. We will provide resources and activities to remind your child about how to stay safe. Make sure they are thinking about this and talk to them about what they are doing online. Please report any concerns as soon as possible to:

This email address is being protected from spambots. You need JavaScript enabled to view it.

.
Your child may have more time at home without adult supervision. This is a good opportunity to discuss "what ifs" and staying safe. We will try to share some resources you could use for this.
You might be asking your child to care for younger siblings. They could also develop their skills in relation to childcare, using appropriate online resources, or keeping a record of how they have done this.
C. Enjoy and Achieve
The more your child is enjoying what they are doing, the more they are likely to achieve, particularly in these unsettling times.
Negotiate and agree how much formal work from school your child will complete each day. The main thing here is to make it sustainable and NOT something you are going to have battles over. As a general rule, aim for 2-3 hours a day for the first week, and then review it, but you will know your child. You may find that if you start small, with lots of praise and encouragement, more will be completed voluntarily. Make sure they are not doing formal learning ALL the time – they need to make time for the social contact, enrichment and relaxation that they have at school!
We would advise discussing how to schedule formal learning and where it should take place during the day, rather than making a timetable. The responsibility of deciding which subject or activity you fancy doing will benefit students. Try to encourage some Maths and English every couple of days.
Encourage independence, choice and creativity. This is how your child will be used to the curriculum working. Mistakes are positively encouraged and can be discussed as part of the learning process. The work from school should NOT need any support from you. Encourage your child to use "Brain, book, buddy, boss". If they are really stuck they can leave the task and go on to something else.
The activities being set up teachers are not compulsory. If you feel your child's needs can better be met by relaxation, reading, watching documentaries, playing games, doing sudoku then that is fine for the next 2 weeks. Use the activities set ion Go for Schools when you want to do so.
Remember that this experience offers the opportunity for lots of different ways of learning. Lots of reading is great. Encourage writing – reviewing a book or film, writing a letter or email.
Encourage creativity and innovation. Isaac Newton did some of his best work at home in 1665 during the Great Plague when he was sent home from Trinity College, Cambridge University, and William Shakespeare wrote plays including Macbeth while in quarantine due to a plague outbreak!
Build in plenty of time for enrichment activities – this could be carrying on practicing or learning a new skill.
Encourage your child to document and record what they are doing – we are making history!
It is dawning on us that our children's grasp of technology is going to come into its own – get them to teach you!
Is there anything that you have ever meant to teach them or share but never got around to it? If so, now is the time to discover family history, teach them to knit, do some bike maintenance, develop your drawing skills.
Learning looks like this for all of us – sometimes it will be challenging and you will get stuck!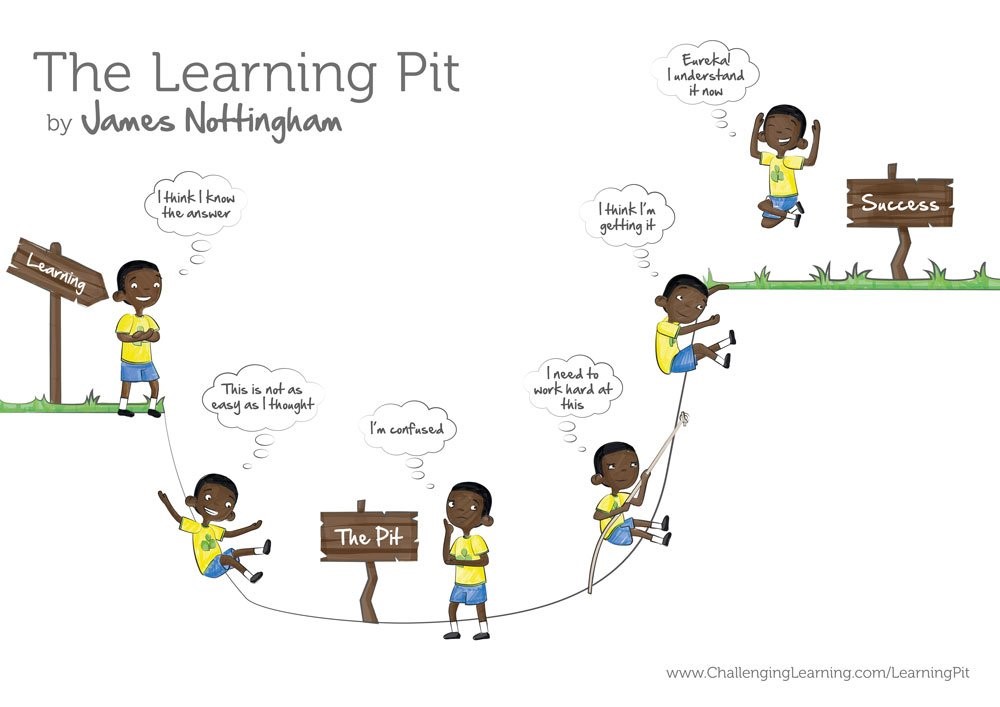 D. Making a positive contribution
What a great time to consider your child's and family's contribution to our community!
Talk about and spend time doing things to support our local community – family friends, neighbours.
Get involved in your local Mutual Aid group – but make sure you keep your child safe
Join in with social media initiatives such as making a rainbow for your window (Being careful to check suitability reinforces internet safety!)
Join any community initiatives to support our NHS workforce
Share learning experiences with other families
We will be creating opportunities for discussion and feedback - get involved
Talk about what you have all achieved and learnt each day, and what you are planning to do tomorrow. Remember that mistakes are good!
Talk about and research the impact the pandemic is having or could have on the environment, or research environmental issues of interest.
E. Achieve economic wellbeing
This may be a good time to talk about and investigate possible career choices. What do they involve and how would you get there.
You may also want to consider how the world might be different in the future. Why?
What difference do you think current events will make?
How will you change the world for the better?