Confucius Classroom at Alderman White School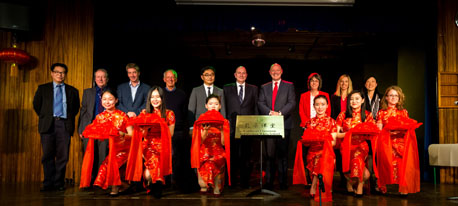 The Confucius Classroom at The Alderman White School (CCAWS) was officially launched on 8th October 2015 by the signing of the Confucius Classroom agreement (pictured left) between The Alderman White School and the Confucius Institute at the University of Nottingham (NCI), which was founded 10 years ago. It is NCI's first affiliated Confucius Classroom. It is located at both Alderman White School and Bramcote College and serves the family of schools linked to the The White Hills Park Federation with the support of NCI and Confucius Institute Headquarters (aka Hanban).
With the support of NCI as well as the Nottingham Chinese School, CCAWS boasts a well-qualified Mandarin teaching team as well as a wide range of teaching resources. The CCAWS aims to support the teaching of Mandarin and the promotion of Chinese culture across the WHP Federation as well as the Nottingham Chinese School. It will benefit every student by offering greater opportunities to learn the Chinese language and experience Chinese culture, ensuring that the next generation of students benefits from a truly international perspective, equipping them for future work in a multicultural environment
CCAWS benefits from a high level of teacher expertise as well as a diverse range of resources. The teachers of CCAWS are carefully selected by Hanban from Fudan University, one of the top 3 universities in China. The teaching materials and subject-specific IT software have been well developed by Hanban alongside experts in the field of education from all over China. The courses and activities provided by CCAWS are easily accessible and designed to meet the needs of our students as well as the wider community.
Useful Links
Confucius Institute Headquarters
Chinese Proficiency Test Official Site
http://www.chinesetest.cn/index.do
Nottingham Confucius Institute
http://www.nottingham.ac.uk/confucius/index.aspx
Fudan University
Nottingham Chinese School
http://www.chinese-school.org.uk/index.htm